3 STEPS TO AMAZING SKIN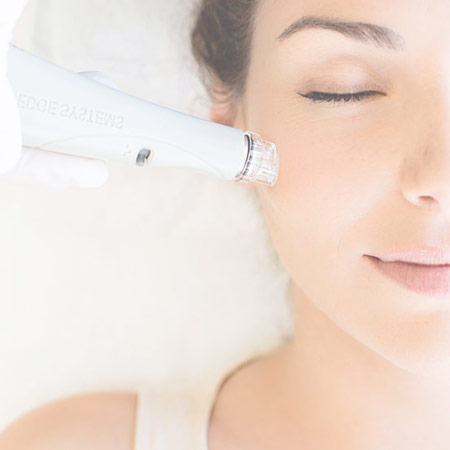 WHAT IS HYDRAFACIAL?
Hydrafacial uses a patented Vortex Fusion technology that will cleanse, extract debris and hydrate your skin. The whole process will take around 30 minutes and will leave your skill feeling super rejuvenated like never before.
The results delivered are instant and you will be amazed by the results which you would normally see from an advanced lengthy facial. The Hydrafcial experience is painless, relaxing and a great confidence booster.
Call us to book a free consultation.
HOW IT WORKS IN 3 STEPS
1. Cleanse & Peel
The first step involves a deep cleanse and exfoliation that will remove dead cells and surface oil to reveal a new layer of skin. To do this, our experts will use the HydraFacial device to blast a water-based solution onto the skin around the face, neck and décolletage.

This firm but gentle pressure will break up the topmost layer of skin impurities and help open up your pores. The dead skin cells and surface debris are then gently removed from your pores using the HydraFacial device's painless suction Vortex Fusion technology.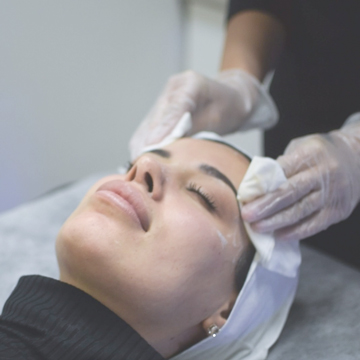 2. Extract & Hydration
To ensure the skin is thoroughly exfoliated and that all whiteheads and blackheads are lifted from the pores, our facial technicians will apply a soothing chemical peel, which includes Salicylic and Glycolic acid.

While your skin is feeling brand new, it is important that is it instantly hydrated to retain that refreshing and youthful glow. Using the HydraFacial device, a pressurised delivery of moisturising serums will be applied to your skin so that that the moisturiser penetrates several layers deep into the skin.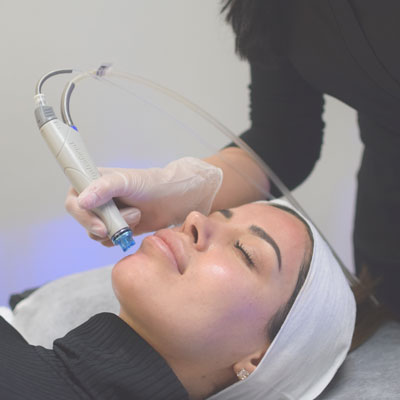 3. Fuse & Protect
Once the skin has been properly nourished with our moisturising serums, it is time to fuse in that layer of hydration and protect the skin so that the rejuvenated complexion does not quickly fade.

Our experts will use the HydraFacial device to infuse a special mixture of antioxidants, peptides and essential nutrients into the skin. This will help seal in all those rich minerals and provide a protective layer to ensure that your skin will be left glowing and noticeably clearer for longer.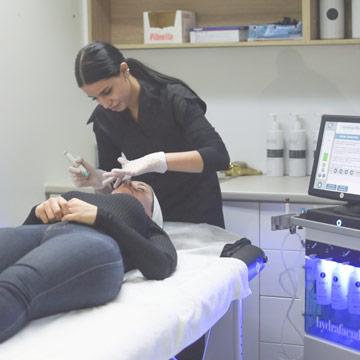 WATCH HOW IT WORKS
The hydra peel tips unique sprial deisng and powerful suction provides a non-invasie skin resurfacing and temporary pore opening to effecitvely cleanse, exfoliate and extract the toughest debris.
HOW MUCH DOES IT COST?
We are Sydney's cheapest Hydra facial supplier to ensure we value your continuous visits. Our package pricing even offers additional value.
See below for our pricing chart as of 9th November 2019 or see our full Price List for current specials.
Hydra facial Treatment
Price (Incl. GST)
Specials
Hydra facial Single Treatment

$250

$180

On Sale
FAQ
What is Hydra facial?

Hydrafacial uses a patented Vortex Fusion technology that will cleanse, extract debris and hydrate your skin.

What are the 3 steps for Hydra facial?

Step 1: Cleanse and Peel. Step 2: Extract and Hydration. Step 3: Fuse and Protect.

How long does the treatment take?

The whole treatment is finished in about 30 minutes.

How many sessions would I need?

We recommend a minimum of 3 sessions to see the best results! With multiple treatments your skin will continue to show noticeable results for much longer and the process performed in less time. Oasis Medispa offers the best treatment priced packages to ensure your visits are highly valued.

How much does it cost?

Each treatment will cost $180 incl GST at our competitive location. We also offer discounted prices for package purchases.

Do I need to make a booking?

Yes. Bookings are essentials. Please call our friendly staff to arrange a time and date that suits you.

What skin types are suitable?

Hydrafacial is suitable for ALL skin types and that's the beauty of it. Due to it's non-evasion skin resurfacing the treatment adjusted by qualified staff to suit all skin types.

What are other advantages of Hydra facial?

Additional skincare needs such as fine lines, wrinkles, uneven tones, vibrancy, skin texture, browns spots, enlarged pores, oil and congested skin are addressed with this treatment.
More Beauty Care Services
Learn more about some of our other beauty care services.
MAKE AN APPOINTMENT
"It's time to spoil yourself."